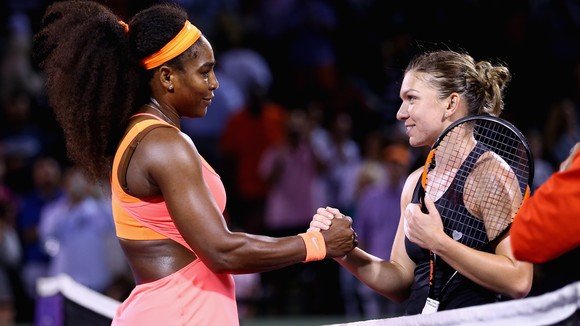 Romania's tennis player Simona Halep on Wednesday evening lost to US Serena Williams in a women's singles quarter-final fixture at the 6,134,605-US-dollaer BNP Parisbas Open tournament in Indian Wells (California).
It took Williams only 69 minutes to defeat defending champion Halep in a match in which she managed to physically dominate the world's number five.
Williams managed 28 winning direct shots, to Halep's 9, with an unforced error ratio of 24 to 13 for the 34-year-old Williams.
In the first set, Williams managed a break when the score was 3-2, then she advanced to 5-2 after a nil game, but Halep managed to come back to win William's serve getting close, at 4-5, but after some errors, Williams won the first set 6-4 in 46 minutes.
The first part of the second set was similar to the first, with Williams getting a break at 3-2 and winning the decisive point after a double fault of Halep. Williams went on to 5-2 and even as she lost one game to nil, she won teh set 6-3.
Cheering Halep on in the attendance were legend of gymnastics Nadia Comaneci and pop singer Smiley.
With a ten-year difference separating them — Halep was born on September 27, 1991 while Williams was born on September 26, 1981 — their head-to-head statistics now is 7—1 favouring Williams.
Williams's previous win over Halep was in the Cincinnati 2015 final, 6-3, 7-6 (5). Halep's only victory over Williams was at the 2014 WTA Finals in Singapore, 6-0, 6-2. The two were expected to play in Indian Wells in 2015 as well, but Serena dropped out before the semi-finals and the meet was not included in the head-to-head statistics.
For her performance, Halep won 128,215 US dollars and 215 WTA points. Williams will play in the semi-finals against Polish Agnieszka Radwanska (N. 3) , who defeated Czech Petra Kvitova, 6-2, 7-6 (3). AGERPRES (RO — editor: Mihai Tenea; EN — author: Corneliu-Aurelian Colceriu)
Source:Agerpres